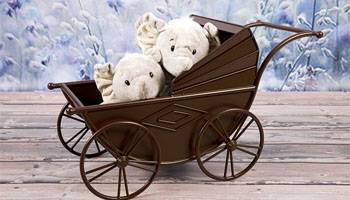 We're not here to give you the typical push car—we're here to give you the best push car for babies and toddlers. We're here to give you a list of the top toys that grow with your child, from when they learn to sit up to when they're running around, unable to contain their imaginations.
The typical push car functions like a stroller. Parents are able to push it from behind, while their child sits comfortably inside the toy car or other automobile. It often includes storage areas for diapers, wipes, snacks, and more.
We're here to provide you with our favorite five push and ride toys that have the greatest safety, functionality, and excitement for the little ones in your life. After our top push cars, you'll also find a short buying guide that will help you find the right toy for your child.
Let's get pushing and riding!
Best Push Car for Toddler – Comparison Table
The Best Push Cars For Babies and Toddlers – Our Top Picks:
Here are our top five push cars to get your little one out on the road, driving like a pro!
Buyers' Guide: How To Choose The Best Push Car for Babies and Toddlers
Push cars give your kids the ride of their life! They'll feel as though they're driving their own car, their imagination flying through the roads. You'll still be able to maintain control of the car when they're babies, but toddlers will be excited to drive Flintstone-style and take control of their own set of wheels!
One of our favorite uses of ride on push cars for toddlers and babies is a ride around the mall! They act as strollers, but even more fun! Most push cars are light enough to carry with you, and your child will be excited they get to ride their car in a public place! Your child can have a fun ride while you go about your shopping undisturbed!
But with so many push cars on the market, how do you find the one that will work best for your child (and you)? Below you'll find the four key features to consider before purchasing your little tikes' push car.
Safety

Safety first and foremost! One of the best features of baby push cars is that the parent is in control of the speed and direction. This innately enables supervision of your baby at all times, which is important to maintain safety with any mobile toy. When kids get older and begin to propel their push car themselves, you will still want to supervise their playtime.

You'll always want to look at the stability features of the push car as well. Stability is crucial, so they don't fall over, get injured, or get trapped beneath the car. Look at the make and material, the size of the wheels (larger is more stable), and the overall balance and symmetry of the car. Read reviews to see what parents say about how secure or flimsy a given push car is.

If there is a minimum weight limit for the toy, be sure that your baby reaches that weight or it could compromise the stability of the ride. Always check for the maximum weight limit as well.

Some push cars include seatbelts, while others need to be attached separately. We always recommend a seat belt for active tikes.

Grow-With-Me

Is there a grow-with-me feature on the push and ride toy? This means that the toy can transition from baby to toddler, allowing your child to use it for years to come. This includes a removable floor so the child can drive the car without assistance, as well as a removable push handle to add more stability when the car is being pedaled.

Wheels

Are the wheels durable and stable? Will they hold up on all the terrain your little one enjoys—from carpets to sidewalks to mall tile?

Furthermore, do the front wheels spin for better steering? We like 360-degree wheel movement as much as possible, so your child won't get frustrated or stuck when trying to move in a given direction.

Gadgets

What does the toy look like and what fun "gadgets" does it include to make the ride even more enjoyable? Does it have a horn or music? Sippy cup holders or stuffed animal storage? A canopy for outdoor play and a comfy back rest? Does it have a face on it for younger kids or is it sleeker for the "cool" toddler?

Choosing a push car with gadgets is the fun part! You can match your child's personality with their toy through these additional features and appearance.
If you still need help choosing the bestpush car for your toddler or baby, contact us and we would be happy to point you in the right direction!
Best Push Cars for Kids – The Bottom Line:
The best push and ride toy is the one that has the necessary safety features, as well as all the fun and functional qualities you and your child will need.
We've listed some of the best push cars for babies that are stable, secure, and encourage mobile imagination. These can often turn into the best push cars for toddlers with grow-with-me features like removable floors or pedals and detachable handlebars— so your little tikes push car can become the vehicle of their dreams! From stroller to exciting toy, push and ride toys are a great investment for functional fun!
---