As an amazon associate I earn from qualifying purchases.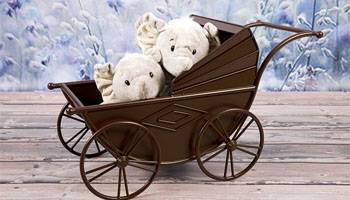 We're not here to give you the typical push car—we're here to give you the best push car for babies and toddlers. We're here to give you a list of the top toys that grow with your child, from when they learn to sit up to when they're running around, unable to contain their imaginations.
The typical push car functions as a stroller. Parents are able to push it from behind, while their child sits comfortably inside the toy car or other automobile. It often includes storage areas for diapers, wipes, snacks, and more.
We're here to provide you with our favorite five push and ride toys that have the greatest safety, functionality, and excitement for the little ones in your life. After our top push cars, you'll also find a short buying guide that will help you find the right toy for your child.
Let's get pushing and riding!
At a Glance: The Best Push Car for Toddler to Buy
We highly recommend looking at the comparison table we have below where we highlighted the features of each product.
The Best Push Cars For Babies and Toddlers – Our Top Picks:
Here are our top five push cars to get your little one out on the road, driving like a pro!
Step2 Whisper Ride II
The Step2 Whisper Ride is the best push car for babies who want a fun and cool stroller. It has a sleek design that looks like a "real" car with cool sticker headlights and designs! It's got a comfortable floorboard for a cozy ride, and there's even a honking horn on the steering wheel. There are two child's cup holders, so they can always have their water and snacks on them!
The wheels create a smooth, quiet ride that rolls effortlessly on almost all surfaces. The wheels and frame are made for high stability, so you don't have to worry about your child tipping over. Plus, there's a built-in seat belt to keep them secure.
And don't forget the parent features of the Step2 Whisper Ride<! Along with the two children cup holders, there's one for the parents on the push handle as well. The hood opens to reveal a decent-sized storage place that's great to bring all of your child's on-the-go needs.
Despite its stability, this push and ride toy is lightweight and the handle folds down, so it's easy to transport from place to place. It also fits perfectly in most cars, so you can always have a stroller on you.
There is no shade or canopy, which means your child can get a bit hot in the sun. However, you can buy one separately and easily attach it to the push handle or the back of the car. There is also no removable bottom, so it is not a car that kids will grow into. This is the best push car for babies and little legs specifically. However, for the price of this Step2 Whisper Ride<, it's definitely worth it for the time you have it!
The maximum weight is 50 pounds and there is adult assembly required.
---
Little Tikes Deluxe 2-in-1 Cozy Roadster
The Little Tikes Deluxe 2-in-1 Cozy Roadster is one of the most versatile push and ride toys for children. This is one of the best push cars for babies because of its fun appearance and great parent features. It has a fun, friendly character face that makes babies feel as though they have a new friend—perfect for the imaginative and playful.
It also has a built-in canopy for shade, which is important for baby's sensitive skin and eyes. Plus, it has a real working horn that will shock and excite your child!
The hard plastic wheels are safe for kids and little fingers. They are built to be quiet with no squeaking or scratching. They are durable enough for outdoor use but also gentle enough for indoor flooring. You should note that the wheels only go forwards and backwards, and they don't turn.
In this way, it's better for walks around the block or around the house, but not as great for navigating the mall or grocery store.It has two-cup holders and a zipped storage area, which makes bringing your child's goodies with you a cinch. The handlebar is adjustable, so it can be used by any parent—or even an older child playing with a baby sibling.
One of our favorite features of the Little Tikes Deluxe is that handlebar can be attached to both front and back of the happy car. It can function as both a stroller and a wagon, so it is great for different types of uses!
We recommend the Little Tikes Deluxe 2-in-1 Cozy Roadster for babies. It's one of the smaller little tikes push cars, so it's ideal for younger children who want a fun and goofy ride!
---
Step2 2-in-1 Ford F-150 SVT Raptor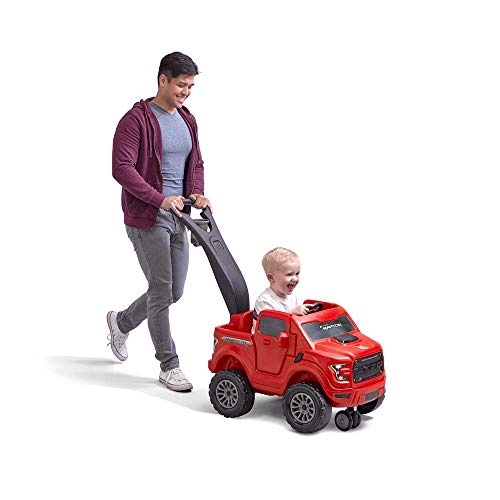 This is the best push car for toddlers with a love of outdoor play—and also those who are growing at a rapid pace.The Step2 2-in-1 Ford F-150 SVT Raptor is one of the coolest push cars on the market, made with an attractive appearance that little ones of varying ages will be able to enjoy.
Starting at 18 months, you can use this rugged truck as a stroller with a comfortable handlebar. The open truck bed is great for storage, and there are two-cup holders for drinks and snacks.
Plus, it's one of the most realistic trucks for this age group! It has a cool appearance with Ford Raptor details, a front grille, and even working lights!
The honking horn on the steering wheel is always a hit, and there are even two working doors with functioning latches! Plus, that open truck bed goes from parent-storage to toy-storage with ease!
The rough and tough wheels have 360-degree turning, so they'll be able to zoom off in no time!As your kids grow and become more independent, this Ford F-150 SVT Raptor turns from a push toy to a foot-to-floor toy.
The floorboard removes, so your child can use his or her own feet to push and steer. The handlebar also removes, revealing a rugged looking truck that will give your kids the independence they crave with the safety of a younger child's toy.
This Step2 Ford Raptor does not come with a seatbelt, but has a loop with two holes that allows you to wrap through a separately purchased seatbelt.
A lot of parents have even found that a large children's belt does the trick perfectly! The only parent complaint of this truck is that the assembly is a bit extensive. Otherwise, parents love this toy almost as much as their kids do!
---
Fisher-Price 3-in-1 Push 'N Scoot Ride On
The Fisher-Price 3-in-1 Push 'N Scoot Ride On is the best ride-on push car for babies because it encourages creativity as well as motor skills.
There are three grow-with-me stages that bring your child from sitting up alone with the parent assist handlebar to new and beginner walkers to the foot-to-floor ride on for toddlers.
There are even removable foot pedals for when your child begins to propel their feet faster and faster, not wanting anything to get in the way of their fun!
You'll love to watch your child go from sitting and riding as you push them to eventually steering it without your help! It'll be a bittersweet day.
The wheels, foot pedals, and extra-large handlebar add stability for younger babies, so you don't have to worry about them falling over.
As your child ages, these can be removed, and the stability will come from them learning to hold themselves upright as they use their feet to pedal.
Plus, the Push N' Scoot is fun and musical! There are three interactive musical play instruments that give your child a melody to play to.
The sax, drums, and piano are found around the steering wheel.
These aren't just buttons that play a song as you'll find on a lot of ride-on push cars.
These are interactive instrument-shaped mechanisms that your child can play with—banging on the mini drums, playing the piano keys, or enjoying the sweet jazzy sounds of the saxophone.
As the tune plays, lights flash to further stimulate your child.
Parents love that this Fisher-Price 3-in-1 Push N' Scoot Ride On can last for years, and kids never get enough playtime! Great for indoors and outdoors, function and play, and a musically adventurous tike!
---
Little Tikes Cozy Coupe 30th Anniversary Car
You've undoubtedly seen this car before, and you may have even played with it when you were a child! This is the 30th-anniversary edition of the classic red and yellow foot-to-floor toy.
In this Little Tikes Cozy Coupe, you'll find new features that go beyond the classic pedaling we all know and love.
It's now accessible even for younger children as well!
This is because there is a removable floor as well as an inconspicuous handle on the back, so little tikes can be pushed around before they gain the legs to pedal themselves.
Despite all the new and exciting aspects, it still has that same great traditional quality.
It has a smooth, comfortable ride on its soft tires, which are also durable enough for grass and pavement. The front wheels spin 360-degrees, so parent or child can navigate through lots of different places and situations.
You truly cannot go wrong with this classically innovative Little Tikes Cozy Coupe 30th Anniversary Car!
And thirty years wouldn't be a celebration without cool, exciting features also! The fun and friendly face on the front of this Little Tikes push car makes kids feel goofy and silly as they ride along.
Plus, there's even an "ignition switch" and an open-and-close gas cap, so they can fuel up and race off. The doors open and close for even more realistic fun.
The raised wheels allow for added movement and stability, so no more scooting—they can run full force down the sidewalk!
---
Buyers' Guide: How To Choose The Best Push Car for Babies and Toddlers
Push cars give your kids the ride of their life! They'll feel as though they're driving their own car, their imagination flying through the roads. You'll still be able to maintain control of the car when they're babies, but toddlers will be excited to drive Flintstone-style and take control of their own set of wheels!
One of our favorite uses of ride on push cars for toddlers and babies is a ride around the mall! They act as strollers, but even more fun! Most push cars are light enough to carry with you, and your child will be excited they get to ride their car in a public place! Your child can have a fun ride while you go about your shopping undisturbed!
But with so many push cars on the market, how do you find the one that will work best for your child (and you)? Below you'll find the four key features to consider before purchasing your little tikes' push car.
Safety

Safety first and foremost! One of the best features of baby push cars is that the parent is in control of the speed and direction. This innately enables supervision of your baby at all times, which is important to maintain safety with any mobile toy. When kids get older and begin to propel their push car themselves, you will still want to supervise their playtime.

You'll always want to look at the stability features of the push car as well. Stability is crucial, so they don't fall over, get injured, or get trapped beneath the car. Look at the make and material, the size of the wheels (larger is more stable), and the overall balance and symmetry of the car. Read reviews to see what parents say about how secure or flimsy a given push car is.

If there is a minimum weight limit for the toy, be sure that your baby reaches that weight or it could compromise the stability of the ride. Always check for the maximum weight limit as well.

Some push cars include seatbelts, while others need to be attached separately. We always recommend a seat belt for active tikes.

Grow-With-Me

Is there a grow-with-me feature on the push and ride toy? This means that the toy can transition from baby to toddler, allowing your child to use it for years to come. This includes a removable floor so the child can drive the car without assistance, as well as a removable push handle to add more stability when the car is being pedaled.

Wheels

Are the wheels durable and stable? Will they hold up on all the terrain your little one enjoys—from carpets to sidewalks to mall tile?

Furthermore, do the front wheels spin for better steering? We like 360-degree wheel movement as much as possible, so your child won't get frustrated or stuck when trying to move in a given direction.

Gadgets

What does the toy look like and what fun "gadgets" does it include to make the ride even more enjoyable? Does it have a horn or music? Sippy cup holders or stuffed animal storage? A canopy for outdoor play and a comfy backrest? Does it have a face on it for younger kids or is it sleeker for the "cool" toddler?

Choosing a push car with gadgets is the fun part! You can match your child's personality with their toy through these additional features and appearance.
If you still need help choosing the best push car for your toddler or baby, contact us and we would be happy to point you in the right direction!
Best Push Cars for Kids – The Bottom Line:
The best push and ride toy is the one that has the necessary safety features, as well as all the fun and functional qualities you and your child will need.
We've listed some of the best push cars for babies that are stable, secure, and encourage mobile imagination. These can often turn into the best push cars for toddlers with grow-with-me features like removable floors or pedals and detachable handlebars— so your little tikes push car can become the vehicle of their dreams!
From a stroller to an exciting toy, push and ride toys are a great investment for functional fun!
---