As an amazon associate I earn from qualifying purchases.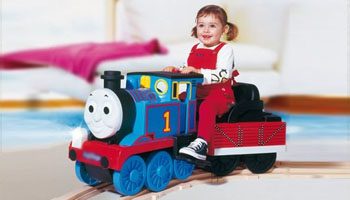 Ride on train toys are a hit with toddlers as they allow your child to be the conductor of their very own locomotive train. Younger toddlers can learn to walk by pushing around the toy and as they grow, start to develop coordination and balance while riding on the train.
At a Glance: The Kids Ride On Train Toys to Buy
We highly recommend looking at the comparison table we have below where we highlighted the features of each product.
IMAGE
PRODUCT
DETAILS
 

OUR TOP PICK

OUR TOP PICK

Recommended Age:

12 month - 3 years

Price:

$

Score:

9.7/10

View on Amazon →

Runner Up

Runner Up

Recommended Age:

12 month - 3 years

Price:

$

Score:

9.5/10

View on Amazon →

Best Value

Best Value

Recommended Age:

24 months - 5 years

Price:

$

Score:

9.3/10

View on Amazon →

Most Popular

Most Popular

Recommended Age:

18 month - 3 years

Price:

$

Score:

9.2/10

View on Amazon →
If you want a toy that will keep your child engaged while focusing on important motor skills and activities, a best ride on train is the perfect gift!
Kids Ride Wild helped to narrow down the options for the kids ride on train by bringing you several of the top picks for toddlers. Our buying guide and product comparison will make it easy to select a kids ride on train from the endless options available online.
Kids Ride On Train Toys – Our Best Picks
Thomas The Train Ride On Toy – By Power Wheels

Check Price on Amazon
If your child loves Thomas the Tank Engine, Power Wheels Thomas and Friends ride on train for toddlers will take young drivers on an unforgettable ride! With push-button start and comfortable footrests, this toy is super friendly for little kids.
The train comes with a full 18 feet of track that can assembled in a matter of minutes.
Simply click in each section of the circular track and the Power Wheels train will be ready to take off on the track. It can be used on virtually any indoor surface including carpet, tile, hardwood and more.
If kids are ready to steer and want to ride around the driveway or sidewalk, parents can carry the 27.8 pound train outside. This toy is great for smaller children ages 1 to 3 as it measures 27.8 x 13.1 x 17.5 inches.
Kids will be cruising up to 2 mph off track and a safe 1 mph on the track for endless fun and adventures. The yellow whistle button plays neat phrases and sounds for an interactive experience from Thomas the Tank Engine.
The toy engine is powered by a 6 volt rechargeable battery and the sounds are powered by 1 AA battery which are both included in the package.
Your child will have hours of fun riding the Thomas the Train ride on toy before it needs to be recharged.
Learning how to ride will be a breeze with the train track as kids can slowly build up their confidence before they take Thomas off the tracks.
---
VTech Sit-to-Stand Ultimate Alphabet Train

Check Price on Amazon
The VTech Sit-to-Stand Ultimate Alphabet Train is a great educational kids ride on train that is designed to grow with your child. For children ages 1 to 3, it has 10 different activities including a clock, alphabet blocks, gears, storybook and more that help to build motor skills for children.
You will be introducing letters, colors and numbers to your little one with this interactive ride on toy.
If you have a younger toddler, it can start a push toy that encourages them to learn how to walk. As they get older, they can convert the caboose and use it as a pull wagon that can be packed with toys for fun on the move!
The walkie-talkie buttons and number pads will encourage creativity and role-play as the toy plays over 100 sounds, phrases and sounds.
This toy is the perfect size for toddlers measuring at 9.8 x 33.9 x 17.7 inches and weighing only 8.6 pounds.
It comes included with 3 AA batteries, but it is best to swap out with new batteries for frequent use.
Parents love the versatility of the VTech Sit-to-Stand Train because it starts as a walker without the caboose and as kids grow, the toy transforms from floor play to a full ride on toy.
They build stability while on the move and will learn so many different concepts and phrases. It even counts the number of alphabet blocks when they are put down the caboose chute.
Your little conductor will have a grand time interacting with this ultimate alphabet train!
---
Rollplay Steam Train 6-Volt Battery
Rollplay Steam Train 6-Volt Battery on train has realistic lights and sounds that will have your child feeling like they've hopped aboard a real live train!
The bright red train with yellow wheels features the traditional train design that kids will cherish for years to come.
The electronic engine sound effects are powered by 2 AA batteries and will keep your child engaged for hours at a time.
Recommended for ages 18 months to 3 years and up to 45 pounds, toddlers can take full command when they start up the engine with a push of the on-off button!
This toy works on and off the tracks and comes includes with 12 curved track pieces that create a circular track.
Additional track pieces can also be purchased separately if your child wants to set up a figure 8 track.
Kids can pretend to be little engineers as they ride around the 76 inch round track.
The working headlights light the way for the train to move around both indoors and outdoors. Any surface that is smooth and flat is ideal for riding with the Rollplay Steam Train 6-Volt Battery.
This toy goes up to 1.5 mph and steering is not required when it is situated on the tracks.
When you are ready for your child to steer on their own, you can simply carry the 30.6 pound train to wherever they desire to ride.
This toddler ride on train is made in the USA and comes with a 6-volt rechargeable battery and charger. Your child can grab ahold of the wheel and drive into an imaginary land!
---
Power Wheels Thomas & Friends Thomas with Track
The Power Wheels Thomas & Friends Thomas with Track is a bright multicolored train packed full of excitement for toddlers.
The electronic dashboard features lights, sounds and activities for your child's exploration and fun.
With six different buttons on the steering wheel, each with a different sound or tune, your child will never get bored while riding on the train.
Designed for ages 12 months to 3 years, this ride on train is lightweight and easy for your child to push around weighing only 7.9 pounds.
It is the perfect size for toddlers measuring at dimensions of 22 x 11 x 13 inches.
This is a great toy to help your child learn how to walk and as they get bigger, they can ride-on the bright orange seat.
Kids can walk behind the back of the train, kick forward while on the seat or even have you push them around for a wild ride.
Kids develop their motor skills as they travel around with the adorable Power Wheels Thomas & Friends Thomas with Track.
It comes with 2 AA batteries and is propelled by your baby pushing or moving forward with the train as opposed to a battery-powered engine.
This train is great for active imaginations! They can even tag along with a small toy with the convenient storage compartment under the train seat.
Indoor use is best for kids to ride around on the interactive toy, although it can be brought outside if desired. You are encouraging your child to develop independence as they propel the toy forward and listen to the cool sounds of the toy train.
---
Peg Perego Santa Fe Train Ride On
The Peg Perego Santa Fe Train Ride On is a foot to floor ride on train for kids 18 months to 3 years. It features a realistic, old school train design with a red and grey body and black wheels.
Your child hops on to the padded seat and can walk or kick their feet on the floor to move forward. After hours of playtime, cleaning is simple as the seat clicks right off when it is time to clean up.
Kids grab onto the metal hand bars and can steer by moving around with the rear wheels. Toddlers love cruising around on the little train that measures 28 x 13 x 8 inches.
Little train enthusiasts and pretty much any child looking for some entertainment will love having full control of the iconic Santa Fe Railroad train. You will be able to hand this toy down to multiple generations as the quality steel construction is durable enough to last for many years.
Not only is it durable, but there is great detail in the classic design and it gives parents a glimpse into their childhood looking at the classic train toy. Weighing at 20 pounds, parents can easily pick up this toy and move it around the house or put it away when your child is done riding.
Although, you will probably have to beg your child to finish riding as this toy will be their absolute favorite. All Aboard! The Peg Perego Santa Fe Train Ride On is boarding for a trip around town.
---
Ride On Train for Toddlers – Choosing a Suitable Train Toy
When you are considering purchasing a ride on train toy for the little one in your household, there are many different factors to consider before making a final decision.
You will want to decide on a kids ride on train that has all of the functionality you are looking for and will become of your child's new best friends!
Indoor or Outdoor?
First, consider whether you plan on taking the train toy outside or if your prefer for your child to only ride around indoors. Many toys are designed for both indoor and outdoor use which gives you the ultimate versatility for play environments. Keep in mind, that since this type of toy sits on circular wheels, it works best on flat, smooth surfaces.
Train tracks come with some ride on toy models to give the traditional train experience while your child isn't quite ready to steer independently.
Most of the included tracks come in several pieces that need to be assembled for a circular track and some even offer the option to create a figure 8 track. If your child would rather steer off the tracks, this option is not something that you will need to look for.
Battery Powered or Foot-to-Floor?
There are two main types of riding fun for toddler trains: battery powered or foot to floor ride-on.
If it is battery powered, your child can push a button to start the engine and cruise around with no foot action required.
Although, make sure to take note of the battery type such as 6-volt or AA batteries and whether it comes included with a charger. For your child's safety, motorized train ride-on toys generally have a maximum speed of between 1 to 3 MPH.
If you prefer the traditional foot to floor version, your child will have control over the speed as they touch their feet to move forward. With this type of toy, the only batteries that may be required is if the toy has interactive features such as lights or sounds.
Size vs Age?
Parents want a toy that will last for their child's new milestones and that they won't outgrow in just a few months.
Take consideration of the recommended age range to make sure the toy is appropriate for your child and will last for a long time. Many trains have a minimum of either 12 to 18 months as ride-on toys are best for toddlers that have a bit more independence than younger babies.
Not Just a Ride-on Train
Will your child like a traditional train toy or will a learning toy be more fun? Some train models are designed to introduce children to new concepts such as numbers, letters and colors.
The learning train ride-on toys make learning an interactive experience with different lights, activities and sound.
Traditional trains can come with realistic sound effects such as the memorable "Choo! Choo!" sound or the sound of a locomotive.
Learning toys often play different songs, phrases and effects as your child presses the buttons on the train. If the toy you are looking for comes with sound effects, take note of whether the volume can be adjusted.
Storage compartments allow your child to take a toy or snack along with them for the ride.
You can find a train model that has a storage compartment under the seat or even an extra caboose for carrying toys if your child loves to tote around their belongings.
Your child will develop essential skills while having a blast rolling on the locomotive wheels.
Ride-on trains are a great step towards independence for toddlers as they can learn motor skills such balance and coordination when riding on the train.
Many trains also encourage creativity and imagination with neat features for your child to explore.
Best Ride On Train for Kids – The Bottom Line
Let your child control where the wheels take them as they travel into the depths of their imagination on their ride on train.
This toy will get plenty of love in your household as kids love to play conductor and take the train around both on and off the tracks.
Choosing a kids ride on train can be cumbersome with so many available options, so we hope we've helped to point you in the right direction in choosing a toy that your child will be sure to love. Now you can find the best ride on train for the little train lover in your life!
---