As an amazon associate I earn from qualifying purchases.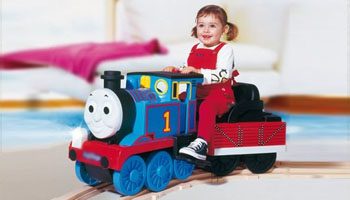 Fancy, remote-controlled trains are good, but not as great as the bigger ride-on trains designed to give your child a more realistic experience. I'll be explaining why before I look at the best ride-on train toy reviews. 
Ride-on train toys allow your child to be the conductor of their very own locomotive. Younger toddlers can learn to walk by pushing the toy and, as they grow, start to develop coordination and balance while riding on the train.
Further, these trains come with interactive features that can be both fun and educational, helping your child to understand what it takes to be a train conductor. Plus, these features allow you to teach your children all they need to know about locomotive engines and railways.
Kids Ride Wild helped to narrow down the options for ride-on trains by bringing you a few of our top picks for toddlers. Our buying guide and product comparison will make it easy to select a kids' ride-on train from the endless options available.
IMAGE
PRODUCT
DETAILS
 

 

Push toy and ride-on train
Comes with up to 10 activities
Includes sounds and phrases

View on Amazon →

Budget Pick

Budget Pick

Muiti-purpose ride-on train that also includes a rocker, walker, and play train
Adjustable seat
Non-marking TPE wheels that can do 360-degree turns

View on Amazon →

 

Lucky Doug Ride On Train

A cool circle train carriage 
Water-resistant wheels 
Recommended for ages 2 to 5

View on Amazon →
Best Ride-On Train Toy Reviews
---
The VTech Sit-to-Stand Ultimate Alphabet Train is a great educational ride-on train designed to grow with your child. For children ages one to three, it has 10 different activities, including a clock, alphabet blocks, gears, storybooks, and more, that help to build motor skills for children.
You will be introducing letters, colors, and numbers to your little one with this interactive ride-on toy train for toddlers. If you have younger toddlers, they can start with a push-toy that encourages them to learn to walk. As they get older, they can use the caboose as a pull wagon that can be packed with toys for fun on the move!
Key Features
Push toy and ride-on train
Comes with up to 10 activities
Includes sounds and phrases
Recommended for ages 1 to 3 years
It comes included with 3 AA batteries (it is best to swap out with new batteries for frequent use)
The walkie-talkie buttons and number pads will encourage creativity and role-play as the toy plays over 100 sounds and phrases. This is no doubt the best ride-on train for toddlers, measuring at 9.8 x 33.9 x 17.7 inches and weighing only 8.6 pounds.
Your little conductor will have a grand time interacting with this ultimate alphabet train! They build stability while on the move and will learn so many concepts and phrases. It even counts the number of alphabet pieces when they are put down on the caboose chute.
Pros:
Features ten activities including a clock, gears, storybook, and more
Fantastic phrases and sounds for an interactive experience
Counts the number of alphabet blocks put down on the caboose chute
Educational and helps to build motor skills for children
Cons:
Requires up to three batteries
Parents love the versatility of the VTech Sit-to-Stand Train because it starts as a walker without the caboose, and as kids grow, the toy transforms from floor play to a full ride-on toy.
---
The Chillafish has a unique design that makes it stand out from other ride-on train models. It offers your kids four unique ways to play as they try to develop balance and motor skills. They can either sit on it and rock or connect to another Trackie and play train, among other fun ways to use it.
Key Features
Muiti-purpose ride-on train that also includes a rocker, walker, and play train
Adjustable seat
Non-marking TPE wheels that can do 360-degree turns
Suited for children between 1 and 5 years
Children love rocking animals because of their soothing effect. They also learn about coordination and balance while playing with this ride-on toy. The seat is adjustable, making it possible for the toy to remain useful as the child grows.
It is made of ergonomic materials and is ideal for children between the ages of 1 to 5 years old. The TPE wheels are silent and do not leave marks on your floors, regardless of the type of finish. There are no tools required to switch between any of the modes, allowing your kids to use it the way they want without your assistance.
Pros:
Offers four unique ways to play
Ergonomic design
Silent TPE wheels
No tools required to switch between any of the usage modes
Cons:
Some 1-year-olds may not be big enough to use it
If you are looking for a versatile ride-on train that your child can grow with as they explore their creative abilities, this is the perfect toy for you and for them.
---
Children love cool toys, and at first sight, that's what you'll notice about the Lucky Doug Ride On Train. It's bright and colorful and has all the features kids love.
Your little ones could use it either as a ride-on train or push walker, which means it could serve as a perfect gift for boys and girls between 2 and 5 years old.  But they have to weigh less than 50 pounds.
Key Features
A cool circle train carriage
Water-resistant wheels
Recommended for ages 2 to 5
Anti-tilt accessories
What makes this train even more useful is the fact that you can count on it to help your child improve their motor coordination.
As for the ride itself, it's not only smooth but also comfortable, be it on track or off the track. This can be attributed to the four wheels, all of which are water-resistant and made from long-lasting plastic materials.
Under the seat, there's enough storage where your little one can store their snacks, toys, and other items. You could also use this space to keep the batteries and charger.
Obviously, you care about safety, and to ensure that this toy doesn't hurt your child, the manufacturer fitted it with anti-tilt accessories. There's also a soft armrest for added protection.
Pros
You can add extra seats to the carriage
Safer for your child
Helps to improve motor skills, which makes it educational
Versatile enough to serve multiple functions in terms of age and where to ride
Has sounds to add more fun to play
Super easy to assemble, even for children
Cons
It could come off the rails during the ride, but this shouldn't be a problem since the train can run freely off the track
Looking at all these features, you get the feeling that the Lucky Doug Ride On Train was made to fulfil multiple needs. It's not just the fun your child will be having—they'll also be getting educated in the process. It's an ideal ride-on train with track for toddlers.
---
Things To Consider When Buying The Best Ride-On Trains
Design
First, consider whether you plan on taking the toddler train toy outside or if you prefer for your child only to ride around indoors. Many toys designed for both indoor and outdoor use give you the ultimate versatility for play environments. Keep in mind that since this type of toy sits on wheels, it works best on flat, smooth surfaces.
Train tracks come with some ride-on toy models to give the traditional train experience while your child isn't quite ready to steer independently.
Most of the included tracks come in several pieces that need assembling for a circular rail, and some even offer the option to create a figure-8 track. If your child would instead steer off the rails, this option is not something that you'll want.
Performance
There are two main types of riding fun for toddler trains: battery-operated or foot-to-floor ride-on. If it's battery-operated, your child can push a button to start the engine and cruise around with no foot action required.
Although, make sure to take note of the battery type such as 6-volt or AA, and whether it comes included with a charger. For your child's safety, electric ride-on toys generally have a maximum speed of between 1 to 3 MPH.
If you prefer the traditional foot-to-floor version, your child will have control over the speed as they touch their feet to move forward. With this type of toy, the only batteries that may be required are for powering interactive features such as lights or sounds.
Size
Parents want a toy that will last for their child's new milestones and that they won't outgrow in just a few months. Consider the recommended age range to make sure the toy is appropriate for your child and will last for a long time. Many trains have a minimum of either 12 to 18 months of age, but ride-on toys are best for toddlers who have a bit more independence than younger babies.
Extra Features
Does your child like a traditional toddler train toy? Will a learning toy be more fun? Some train models help to introduce children to new concepts such as numbers, letters, and colors.
The educational train ride-on toys make learning an interactive experience with different lights, activities, and sounds. Traditional ride-on trains can come with realistic sound effects such as the memorable "Choo! Choo!" or the sound of a locomotive.
Learning toys often play different songs, phrases, and sound effects as your child presses the buttons on the train. If the toy you are looking at comes with sound effects, take note of whether the volume can be adjusted. Storage compartments allow your child to take another toy or snack along with them for the ride.
You can find a train that has a storage compartment under the seat or even a caboose for carrying toys if your child loves to tote around their belongings. Your child will develop essential skills while having a blast rolling along on the locomotive wheels.
Ride-on trains are a significant step toward independence for toddlers as they can learn motor skills such as balance and coordination when riding. Many of the best ride-on trains also encourage creativity and imagination with neat features for your child to explore.
Frequently Asked Questions About The Best Ride-On Trains (FAQs)
What age is appropriate for ride-on trains?
Most ride-on trains are for kids between the ages of 12 months to 3 years, as recommended by the manufacturers. But these trains also have maximum weight capacities, which should determine whether they are right for your child regardless of their age. A lightweight four-year-old might be able to ride one.
Can you ride the train outside the track?
The train tracks are usually smooth and make riding leisurely, allowing users to enjoy all its features. Your little one can also ride the trains outside the rail, but it may become bumpy if the floors are not smooth. The tires also determine how smooth the ride will be outside the track.
Should toddlers wear helmets on ride-on trains?
It is safer to wear a helmet while using any ride-on toy. The train toys for toddlers may not travel very fast, but a fall from certain heights can be dangerous. You do not want your child to sustain head injuries when they fall while playing on hard floors.
Do ride-on trains for toddlers come with sound effects?
Some ride-on trains feature sound effects while some don't. The Fisher Price Baby Tootin' Train Ride On, for example, doesn't come with sound effects or music, but it compensates for that by its simplicity and affordability. For parents looking for a budget ride-on train that doesn't compromise on performance, this is a perfect choice.
The rest of the best ride-on trains on our list have unique sound effects and music to suit the needs of every child and give them a more realistic experience.
Do some ride-on trains come without tracks?
Yes, a good number of the best ride-on trains come with a set of tracks that are easy to assemble. Most of them double as push toys and can also be used without rails. At the same time, there are trains that come without rails but have an option that lets you buy them separately.
Final Thoughts
Let your child control where the wheels take them as they travel into the depths of their imagination on their ride-on train. These toys will get plenty of love in your household as kids enjoy playing conductor. They also get to take the train around, both on and off the tracks.
Choosing a kid's ride-on train can be cumbersome with so many available options, so we hope we've helped to point you in the right direction in choosing a toy that your child will be sure to love. Now you can find the best ride-on train for toddlers!