As an amazon associate I earn from qualifying purchases.
Let me start with a personal touch. When I was a young kid, I didn't dream about a fire truck pedal car. I didn't dream about a Flintstones-like car either. All I wanted was a kids dune buggy. Now, almost 20 years later, I can still relate to that. Every time I see a dune buggy, it brings me back to the moment I first saw it.
At a Glance: The Best Kids Dune Buggy to Buy
We highly recommend looking at the comparison table we have below where we highlighted the features of each product.
IMAGE
PRODUCT
DETAILS
 

Comes in three color options: green, red, and pink

Hard plastic wheels are durable

Can handle semi-rough terrain and perform really well on flat surfaces

View on Amazon →

Can reach speeds of up to 10 miles per hour

8″ knobby pneumatic tires

All-electric means that it is safe

View on Amazon →

 

Gas-powered kids dune buggy features

Electric start and a remote control system

Has very good shocks and sporty seats

View on Amazon →

 

Powered by a 150cc gas engine

Automatic CVT transmission

Reverse gear is included

View on Amazon →

 

Four stroke, single cylinder engine (6.5 hp)

Vehicle can go up to 31 mph

Well equipped when it comes to safety features

View on Amazon →

 

Surprisingly powerful electric engine

Three speed settings

Automatic transmission and quality construction

View on Amazon →

 

Gas powered beauty

Tops out 15 mph

79cc 4-stroke engine

View on Amazon →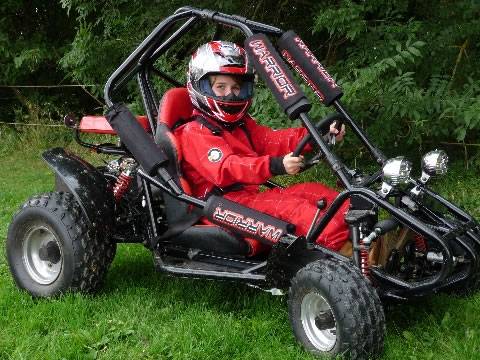 To this date, I am still not sure what made dune buggy an object of desire amongst young kids. Perhaps it was the Madmax movie effect (remember this famous buggy?).
All I know is that some things didn't change and years later kids still desire dune buggies, even though most of them probably didn't see the Madmax at all (however, the dune buggy craze started much earlier, and there were even buggies that were sent to Mars).
What makes dune buggies so special? Just take one good look and you'll know it: large wheels, wide body, open chassis, offroad tires – dune buggy is a vehicle that can ride anywhere.
Riding dune buggy not only is super fun, it gives freedom. Just hop inside and go, go anywhere you like.  Whether it's the beach or the off-road track, the dune buggy will take you there.
Is it worth to buy a kids dune buggy? The simple answer is YES! Your kids will still remember that 20 years later.
What kind of dune buggy for kids should I buy? Well, that's a more difficult question. Choosing the right kids dune buggy can be a challenging and time-consuming process so we've put together this little guide to help you make a right purchase decision.
---
Little kids? Opt for Electric Dune Buggy
Are electric kids dune buggies worth buying? Just a few years ago, one wouldn't need to ask that question as all dune buggies have been gas powered. However, as the technology progressed, so have the dune buggy makers with their latest inventions (and so have the electric dirt bike makers).
Currently, an all-electric kids dune buggy can be bought for a fraction of price of the gas-powered vehicle. That's a big plus. Another advantage of the electric dune buggies is that they can be driven by the youngest kids.
The Best Dune Buggy For 3-5 Year Olds

Check Price on Amazon
Just a few years back, it was nearly impossible to find a quality, all electric dune buggy for a 5-year-old rider.  Now, parents of the 3-year-old drivers can get a new, shiny Power Wheels Dune Racer and let their kids get into the driving action while ensuring full safety.
This kids dune buggy is a toy but it looks very impressive with its flashy chrome accents and sturdy steel frame (not bad for a toy!).
This little Fisher-Price's kids dune buggy drives even better with its two-speed mode,  instant braking system and the maximum speed of 5mph.
Thanks to that, your 3-5-year-old child can have some quality time outdoors, driving on hard surfaces, rough terrain or wet grass in the park. Click here to read customer reviews on Amazon.
The Best Dune Buggy For 6-10 Year Olds
If your kid is between 6 and 10 years old and weighs less than 120 pounds, you should check the Razor Dune Buggy. Kids go crazy for ride-on vehicles made by Razor and Razor dune buggy is no exception.
Razor's dune buggy for kids is not only safe to drive but it's also equipped with some extra safety features such as the seatbelt,  tubular steel frame and protective padding.
Perhaps the best option though is the ability for parents to adjust the throttle in order to limit the maximum speed. A very helpful feature.
To sum up:
The rise in popularity of the electric dune buggies for kids has lowered the entry barrier for both parents and kids: dune buggies became not only less expensive but also available for the youngest kids.  Should you consider opting for an electric dune buggy?
If your kids are 3-10 years old, then most definitely yes.  If your kids are older, like 10 and up, you'd better check gas powered kids dune buggy.
Our Holiday Tip: Razor's Buggy is a popular gift and thus it tends to sell out pretty quickly during a rush holiday season. It's better to order one early as you can actually get it much cheaper and with a free shipping! Get it right here.
---
Gas Dune Buggy – Great for The Older Kids
Gas powered kids dune buggies are stronger, more durable and more diversified in terms of the terrain that they can be driven on. Some of them can be also used on public roads but that will depend on both the vehicle itself and the state regulations. When you look for a kids dune buggy that is gas powered, it is worth to pay attention to the following features:
Engine Size
The typical engine for the starter dune buggy is a 110cc single cylinder, four-stroke engine. 80 – 110cc is just enough for kids to have plenty of fun but fortunately not enough for parents to be worried. A friendly hint: if you don't want your kid to outgrow the dune buggy too soon then a smart move can be to opt for a bit larger, 150cc or even 200cc kids dune buggy.
What about other engine sizes? The larger sized engines, like 163cc to 250cc, are often too powerful to be handled by kids so unless your youngster competes on the track it is better to stick to the 110 or 150cc models. How about smaller ones? Just to put it into perspective, the entry-level mini dirt bike for kids is usually a 50cc dirt bike – that size is usually OK for a kids dirt bike but it most certainly will not be enough for a dune buggy, which is a much heavier vehicle.
Transmission
Most of the kids dune buggies feature an automatic or a semi-manual, three-speed transmission with the reverse gear. Kids dune buggy that features an automatic transmission will be easier to drive and thus it is recommended for the less experienced drivers. On the other hand, changing gears with the semi-automatic gearbox can be fun, as it gives driver control over rpm (an engine revs until you shift the gear) and thus it allows more flexible driving.
Suspension & Brakes
Solid steel frame and the durable suspension are must-have features for every dune buggy. Typically, the front suspension in the youth dune buggy will be arm-swing type with either arm-swing or oil dumped shocks at the rear. As for the brakes, opt for a model that features  hydraulic disc brakes as such provides shorter stopping distance. Plus, it will last for years.
To sum up:
As your kids grow up, they will need a more powerful dune buggy. For kids aged 10 and up, you should consider buying a classic, gas-powered kids dune buggy. They are usually double-seated so your kids will be able to ride with their pals.
---
Dune Buggy for Kids – Our Top Picks
Kids Ride Wild team has thoroughly researched the most popular kids dune buggies for sale. Here are our top picks:
Power Wheels Dune Racer – Dune Buggy Ride-On Toy
This is a great option for your youngest drivers. Power Wheels is a well-respected name in producing high-quality vehicles for children.
This dune racer comes in three color options: green, red, and pink. The hard plastic wheels are durable and can handle semi-rough terrain and perform really well on flat surfaces.
The top speed is 5 mph, but can also be governed down to 2.5 mph. It is very roomy and can comfortably seat two people.
The manufacturer recommends this racer for children between the ages of three and seven and it is sturdy enough for almost all kids in this age range.
It is very low maintenance with a 12-volt electric engine and the metal frame provides a lot of durability. It boasts a "monster" tractions system and power lock brakes to give your young drive extra control. For little kids, this buggy is a blast.
---
TAO Taotao EK80 Electric Go Kart Review
This youngster's kart, made by TAO Taotao EK80 Electric Go Kart, is a PERFECT entry-level kids dune buggy. Powered by a 79.5cc power plant, it features an automatic transmission and plenty of safety features.
A nice move by a manufacturer was to use colors on pedals to help young drivers distinguish pedals: gas pedal is green, red on the brake means stop. Simple yet effective – but that's only one reason why we like Monster Moto's go kart so much.
Other reasons include low center of gravity (makes vehicle safe even in sharp turns), adjustable bucket seat with seat brakes and pretty good hydraulic brakes.
Add a heavy-duty 79cc engine and durable steel frame and what you get is a amazing vehicle that makes both kids – and their dads – super excited (not mentioning feeling safe and confident).
If you're interested but not convinced by our review, go and read other parents' reviews on Amazon.
---
Razor Dune Buggy (All Electric)
Featuring 350 Watt electric motor, kids dune buggy by Razor can reach speeds of up to 10 miles per hour on its 8″ knobby pneumatic tires.  Being all-electric means that it is safe, eco-friendly and requires no fuel to drive.  Just charge the buggy overnight and it's ready to go!
If you want to give your 6 to 10-year-old child some little off-road entertainment, Razor Dune Buggy will be a perfect choice (….read the full Razor Dune Buggy review). If you want to check it on Amazon, here's a direct link.
Trailmaster TM1-MINI-XRX – 166cc
This little gas-powered kids dune buggy features the electric start and a remote control system! It also has very good shocks and sporty seats.
Powered by a single cylinder, 4-stroke engine (5.5 hp), Trailmaster is easy to operate and has the young rider's safety in mind.
Hydraulic, oil-damped brakes, the arm-swing suspension on both front and rear as well as the engine flameout switch make this kids dune buggy a fun and a safe rider.
It can go up to 12.5 miles per hour. For full vehicle specification and customer reviews go here.
Kandi Model KD-150GKA-2 – 150cc
Kandi's kids go kart is powered by a 150cc gas engine (four strokes) and features an automatic CVT transmission which is durable and makes driving easy.
Reverse gear is included and so is the hydraulic, four-wheel disc braking system that ensures the optimum safety.
We like this model for its low center of gravity that improves handling on any surface, as well as the reversible all-terrain tires that can be easily switched.
What's important, it has a speed governor so it doesn't go too fast (as it probably could). Dimensions are 96.5×59.4×62.2 (LxWxH, inch). It's currently discounted on Amazon – here's a direct link.
TrailMaster XRS – 200cc
The XRS is one of the best choices when it comes to mid-sized dune buggy for kids.
Thanks to four stroke, single cylinder engine (6.5 hp), the vehicle can go up to 31 mph.  It's pretty fast but what's important it is also well equipped when it comes to safety features.
These include both speed limiter and kill switch so the riding is safe and we also need to mention sturdy roll cage and solid, instant brakes.
There's no need to switch gears thanks to automatic CVT gearbox. It has great shocks, heavy duty frame as well as comfortable bench seats. Fully recommended (here's the product page.
TAO Taotao EK80 – Fully Electric Buggy
This great off-road dune buggy by TAO has a surprisingly powerful electric engine.
With three speed settings, it will allow you to configure it perfectly for your young driver. The automatic transmission and quality construction make it ideal for new drivers and veterans alike.
Since the engine is electric, it will drastically reduce the amount of maintenance required to keep it running at its best. It has the comparable muscle to other gas powered dune buggies in the same size with a top speed of 16 mph.
The ground clearance is a little less than 2½ inches, which gives a lower center of gravity for greater control but does not perform as well on terrain that is more rugged.
It is best for use in wide-open spaces. With such a low price, this dune buggy is a bargain for parents looking to purchase kids dune buggy for the first time.
---
Taotao GK80 Dune Buggy Kart – 79cc
This gas powered beauty is an excellent choice for your off-road entertainment. While it tops out 15 mph, it will feel a little more powerful than its electric motor counterpart due to the 79cc 4-stroke engine. Since it has no governor, the speed is not adjustable.
It has an automatic transmission, which makes it easy for young drivers to get started right away and the hydraulic disc brakes add a lot of extra control.
This has virtually the same body construction as the EK80 so it will also be best in wide-open areas where the terrain will not affect the low clearance.
To keep it running at its best, premium unleaded gas is recommended. It is low maintenance, but you will need to check the oil and make sure you have enough gas on hand for your ride. Overall, it is a great value.
---
Riding Kids' Dune Buggy Safely – Tips For Parents & Kids
Riding dune buggies can be an exciting family activity, but returning home safely is even more rewarding. Mini dune buggies designed for kids are still powerful and a certain amount of caution is warranted.
However, by following a few simple tips, you can drastically reduce the chances of having an unwanted incident while enjoying your time together.
Tip #1 – Make Sure to Have the Right Equipment
These items are simple but easy to overlook. The right equipment can help prevent injury when accidents occur and can give you peace of mind while your kids are having a blast on their dune buggy. The first thing to check is the seat belts.
Make sure they are functional and that the driver and passengers are using them properly. Each rider should also have a good, heavy-duty helmet. The protection this offers is incredibly important and should be non-negotiable for all riders of the dune buggy.
Another good idea is for the driver to wear a quality pair of motocross goggles or at least sunglasses. This can protect them from sun glare and any debris that could impair their vision.
Tip #2 – Check the Weather
The weather can be friend or foe when riding dune buggies. Rainy conditions will cause the driving surface to more dangerous than normal. Wet surfaces can negatively affect control and the ability to brake correctly. While driving your dune buggy in the mud is incredibly fun, it does pose an additional risk for younger drivers and passengers.
Tip #3 – Be Aware of the Surroundings
Parents of young drivers should be aware of the surrounding terrain and be able to offer guidance and set boundaries as they ride. Obstacles in the terrain can cause unexpected difficulties and drivers should be guided toward large open areas for the maximum enjoyment of their ride.